If you're feeling the call to beautiful Vancouver Island's coast, this guide to where to stay in Tofino will help you pick the best spot to kick back and relax, try your hand at the surf, head out in search of bears or whales, or just soak up the very best of beautiful British Columbia's scenery that's here… the only problem: You might never want to leave!
This post contains compensated affiliate links. You can find more info here.
Where to Stay in Tofino – Your 2022 Guide
Mention the words 'Vancouver Island' and one of the first places that probably jumps to mind is picture-perfect Tofino. Your stay in Tofino is sure to be unforgettable. When I lived in Victoria, Vancouver Island a few years back, I found myself forever dreaming of the ocean at Tofino… and so of course, writing this guide to the best places to stay in Tofino has helped to teleport me back!
Nestled on the mid west coast of Vancouver Island, Tofino juts out onto the Pacific ocean on a peninsula. Surrounded by the sea, Tofino is the perfect place for nature lovers – with people coming for whale and bear watching, hiking and being close to the wilder world.
Tofino is Canada's premier surfing destination and as such attracts the surf and yoga crowd – there are plenty of yoga retreats, surf camps and ecolodges as well as self-catered cabins and more traditional style hotels/motels here that are well worth considering when looking for your perfect Tofino places to stay.
Whether you're dreaming of Tofino cabins to while away long summer days by the ocean in, or want to find an ecolodge Tofino getaway to watch storms from, this guide to where to stay in Tofino will answer all your Tofino accommodation questions for your trip!
So without further ado, let's get stuck into what you need to know to find the best place to stay in Tofino!
Choosing the Best Accomodations in Tofino
One of the first things to be aware of when pondering the question of Tofino – where to stay – is that accommodation here gets really booked up, really quickly. So if you're dreaming of that summer by the beach here (or even winter!), you'll need to act fast.
Weekends are especially busy – so come midweek if you can for the chance of finding more Tofino rental cabins, hotels and resorts available for you to take your pick from.
Prices for Tofino cabin rentals and hotels alike can go sky high during summer – and when it comes to budget travel, cheap hotels Tofino options get booked up quickly or can be harder to find. A more budget friendly location is nearby Ucluelet, just down the coast along Long Beach, and an easy 25 minute drive to Tofino. If you can't find what you're looking for in Tofino, Ucluelet is worth looking at.
Check rates and Availability for hotels in Ucluelet here!
Places to Stay in Tofino Comparison Chart
| Hotel Name | Check Rates / Book Now | Budget | Area | Best For |
| --- | --- | --- | --- | --- |
| Best Western Plus Tin Wis Resort | | $$$$ | MacKenzie Beach | Great all round-er & ocean views |
| Seafarers Bed & Breakfast | | $$$ | MacKenzie Beach | Great breakfasts & friendly staff |
| Sienna's Tree House | | $$ | Chesterman Beach | Space, seclusion & self-catering facilities |
| Hotel Zed Tofino | | $$$$ | Chesternan Beach | Cool, retro vibes & unique design |
| Sienna's Harbor House | | $$$$ | Downtown Tofino | Close to downtown facilities, the incredible views |
| Tofino Motel Harborview | | $$ | Downtown Tofino | Family getaways, views over the harbour |
| Himwitsa Lodge | | $$$$ | Downtown Tofino | First Nations centric responsible tourism |
| Island Village Properties at Fred Tibbs | | $$$ | Downtown Tofino | Self-catering, access to the town centre |
| Ukee Peninsula Motel | | $ | Ucluelet | Reliable budget option if all the Tofino ones are booked out |
| Black Bear Guesthouse | | $$ | Jensen Bay | Sustainable, friendly guesthouse with Clayoquot sound views |
Where to Stay in Tofino
Located in a region of Vancouver Island known as Clayoquot Sound, wherever you choose to stay in Tofino, you'll be awed by the incredible mountain, forest and ocean vistas wherever you turn.
Tofino Village
Tofino itself is a small town with a population of just a few thousand (which of course swells dramatically during summer months). The town (or village) of Tofino is small, and located on the very tip of the peninsula, so if you want to be within walking distance of pubs, shops and restaurants, this is a great area to stay in – although here you're not on the beach.
Tofino Beaches
Many people ask which the best beach in Tofino is (there are several), and when it comes to where to stay in Tofino, there are some simply incredible beach-front resorts and cabins. You'll find plenty of cool places to stay on Vancouver Island here complete with ocean front hot-tubs and ocean facing decks – perfect for sunbathing or storm watching – if you are coming prepared for a splurge, that is!
Beachfront Tofino accommodation spans from Long beach in the south up to Tonquin beach in the north. The southern beaches are a quick drive into town (but not an easy walk), whereas the northern beaches such as Tonquin, Middle Beach and MacKenzie Beach are all an easy walk into town.
If you're looking for the best resort in Tofino with plenty of privacy and seclusion, then some of the beaches offer good options for just this.
Jensen Bay
Located across the peninsula, Jensen Bay faces over the water looking back towards the mainland – offering beautiful water views, but more sheltered than the wild westerly facing ones on the western coast. A short drive from Tofino town/village, Jensen Bay has some lovely accommodation options including the eco-friendly Black Bear Guesthouse which has a relaxing and homely vibe.
Tofino Accommodation Reviews
Best for – Beachside breaks with an ocean view
This Tofino hotel offers a great feeling of space, as all rooms overlook Mackenzie beach and have patio doors leading onto a terrace or balcony. All accommodation comes with free WiFi throughout, flatscreen TV and a mini fridge. A daily breakfast is included in the room rates.
A good range of amenities at this property places it above other resorts in Tofino. In addition to a waterside restaurant and lounge there is a surf shop, gym, hot tub and guest laundry. The hotel is decorated in a contemporary style throughout, with cool grays, warm woods and pops of color.
The relaxed coastal feel, modern decor and great facilities here combine to make this resort an all-rounder and one of the best places to stay in Tofino. The beachside location is unbeatable, and surfing and paddling equipment can be supplied.
Check rates & availability for Best Western Plus Tin Wis Resort here!
Best for – Warm welcome and the best breakfast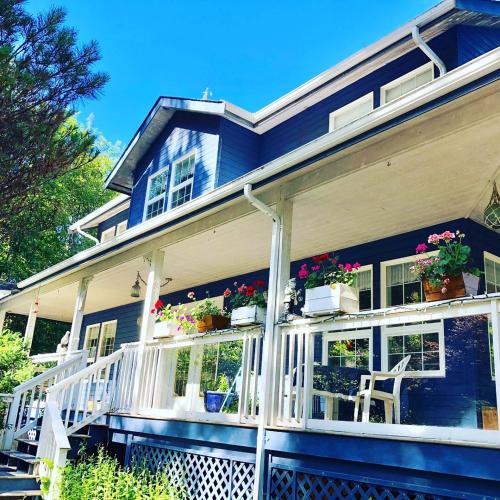 If you prefer properties with a more intimate feel, Seafarers could be the pick of the hotels in Tofino for you. Hostess Maris extends a warm welcome to all guests and serves up a delicious breakfast each morning.
There are just two spacious rooms on site – a King and a Queen. The former has an extra large double plus a sofa bed, while the latter has a single in addition to the large double. Both have a pleasant garden outlook and spa baths for that lazy, post-beach soak.
Seafarers B&B in Tofino is ideal for those seeking a home-from-home atmosphere and a beach within a couple of minutes' walk. Past guests recommend the incredible breakfast, watching the sunset and the cleanliness here in particular.
Check rates & availability for Seafarers Bed & Breakfast here!
Best for – Space, seclusion and self-catering facilities
Sometimes the option of self-catering and a little more space is just what you want. If that sounds like your ideal vacation, Sienna's place provides lodging in Tofino in two private apartments.
A one-bedroom unit with a kitchenette or a two-bedroom apartment complete with full kitchen and dishwasher are the options for your stay in Tofino. Both come with use of a barbecue, free WiFi and flatscreen TV.
All accommodation is clean, modern and decorated with a subtle coastal theme. The tall trees surrounding the property screen it from view somewhat and provide a feeling of seclusion. Hiking trails are easy to access from here, and the beach is just over five minutes away on foot.
Check rates & availability for Sienna's Tree House here now!
Best for – Fun facilities and a retro feel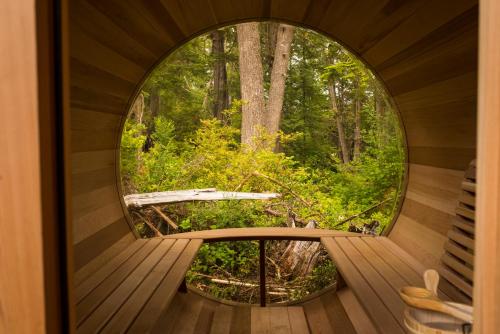 This colorful four star hotel near Chesterman beach offers all the amenities you might expect from larger hotels in Tofino. There's private parking, a restaurant and bar plus a lounge, and of course free WiFi throughout.
A 24-hour from desk and concierge service can help your stay run as smoothly as possible, while to make sure it's also an enjoyable experience there's a hot tub, table tennis zone, sauna and even karaoke. Hotel Zed is a one-off among Tofino resorts for sure.
The cool retro vibe really makes this place stand out, and there are plenty of fun features around the place such as classic cars, arcade games and quirky accessories. Even the room names are playful and will appeal if you fancy being King for a Night or Queen of the Sky. (Who wouldn't?)
Check rates & availability for Hotel Zed here now!
Best for – Beautiful beaches and bird watching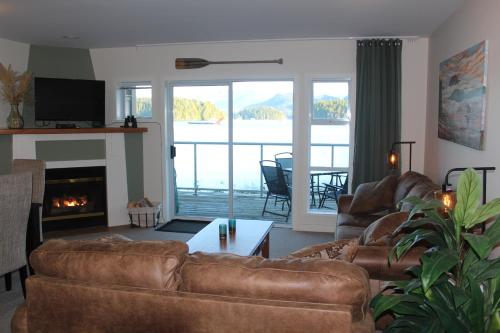 Harbor by name and harbor by nature – Sienna's house is right by the ocean and there are water and mountain views. Overseen by experienced host Sienna – who owns several local guest properties – this large apartment offers over 1,150 square feet of living space.
If you'd rather have the place to yourself than book into a Tofino BC hotel then get in quick – all Sienna's apartments tend to book up fast. With two bedrooms, lounge and dining areas and a full kitchen, this is possibly the best place to stay in Tofino for a small group or family, and can easily accommodate six guests.
Though the location is peaceful, guests staying here have easy access to the restaurants and shops of Tofino while enjoying all the natural attractions of the hiking trails, beaches and wildlife. As well as stupendous views, you can even indulge in a spot of bird watching from your accommodation.
Check rates & availability for Sienna's Harbour House here now!
Best for – Harbour vibes and glorious garden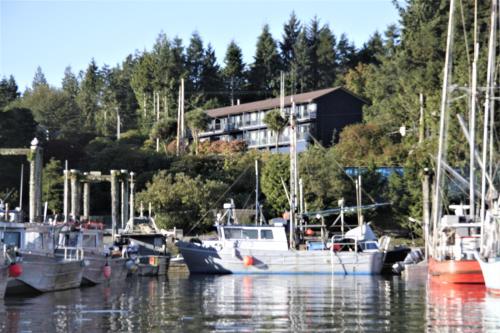 If you're seeking the rustic feel of a Tofino cabin but would prefer more space and facilities, take a look at the Tofino Motel Harbourview. The main building is like one big, blue-painted coastal cabin, but offers spacious, well-equipped accommodation in a range of large rooms.
Each has a balcony offering views over Clayoquot Sound, and guests can walk down a delightful rainforest trail to reach Tonquin Beach. Something perhaps just as unexpected at Tofino motels is the glorious garden setting, and you can even picnic at a table by the Sound here.
Some rooms at Tofino Motel Harbourview have kitchenettes, and all come with a coffee machine, fridge, microwave, free WiFi and cable TV. With rooms sleeping two, three or four, this place is among the best resorts in Tofino for families.
Check rates & availability at Tofino Motel Harborview here now!
Best for – First Nations friendliness and central location
Located on Main Street, Himwitsa Lodge is in the ideal position for anyone who likes having instant access to downtown amenities. How many other hotels in Tofino, British Columbia can boast an art gallery on site? There's also a restaurant and store selling local smoked fish.
In fact Himwitsa Lodge is First Nations-owned and occupies one of those classic cabins in Tofino that's actually surprisingly spacious inside. Each room has two double beds or one double plus a sofa bed, and even the smaller ones offer 450 square feet of space, including a kitchenette. The larger suites offer 750 feet and have complete kitchens.
With free parking, family rooms and facilities like coffee machine, flatscreen TV and complimentary WiFi, Himwitsa Lodge offers comfort and convenience as well as some of the most characterful Tofino lodging around.
Check rates & availability at Himwitsa Lodge here!
Best for – Access to the water and town center
This is one of the best hotels in Tofino for getting out on the water: guests staying here can launch a canoe or kayak from the small beach right beside their accommodation. A range of studios and lofts is available here, sleeping up to four in each.
All apartments come with a complete kitchen, so it's easy to cook up your own casual seafood feast after an active or relaxing day. This can then be eaten al fresco if desired, as all accommodation comes with an outdoor terrace or balcony. There are serene mountain or coastal views from these.
Rooms are simply styled, with authentic coastal touches like surfboards on the walls. Some offer views right out over the water. Whether you want to step onto a boat or stroll into town, everything you could wish for is also close by.
Check rates & availability at Island Village properties now
Best for – Great value stay with restaurant and bar
A good budget friendly accommodation option in nearby Ucluelet, Ukee Peninsula Motel is located within a five-minute walk of Ucluelet Aquarium, and conveniently offers an on-site bar and restaurant. Long Beach and Tofino are just up the coast from Ucluelet, so it's easy to explore the entire area when staying here.
While rooms here are a little smaller than at other Tofino BC hotels, the room rates offer great value for money and all have either two doubles or a sofa bed. Free WiFi, microwaves, flat screen TVs, fridges and coffee machines are supplied for guest comfort, and the en-suite bathrooms come complete with complimentary toiletries.
This motel offering clean, well-kept accommodation in the Tofino Ucluelet area is ideal for those who want a great room rate as well as an on-site restaurant and bar.
Check rates & availability at Ukee Peninsula Motel here now!
Best for – Local wildlife and nearby beach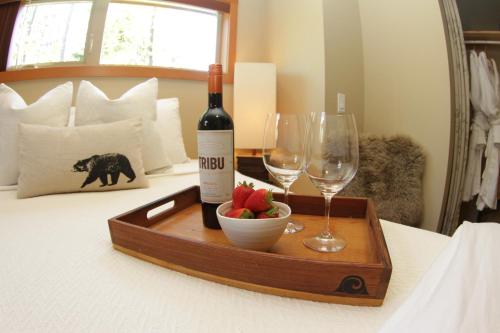 Last but definitely not least, the Black Bear Guesthouse is one of those rare places that seems to have it all. Guests staying at this accommodation in Tofino BC can walk to the beach in a couple of minutes, enjoy wildlife spotting and take advantage of some lovely little extras supplied by the thoughtful local hosts.
You'll have to book early if you want to take advantage of all this superb property has to offer. Further highlights include Clayoquot Sound views, the provision of board games plus DVDs and books, and use of the owners' waterfront terrace. Wildlife such as seals, otters and bald eagles are often spotted in the vicinity.
With a much more homely ambience than some other hotels in Tofino BC, the Black Bear guesthouse comes highly recommended. There's a suite with a hot tub offered here too – should you manage to snap it up quickly enough!
Hurry – Check rates & availability at the Black Bear Guesthouse now!
Haven't found quite what you're looking for?
Worry not – you can search all Tofino accommodations here on Booking.com.
Read more about travel on Vancouver Island on Soul Travel Blog:
Where to Stay in Victoria, BC – Accommodation Guide
10 of the Best Places to Visit on Vancouver Island
9 of the best BC Wellness Retreats