Are you planning a trip to Toronto? Find out which are the best Toronto hotels for you in this guide to the best areas of Toronto to stay in and top Toronto accommodation reviews!
This post uses compensated affiliate links – thanks for supporting Soul Travel! Find out more in my disclosure here.
Are you wondering where to stay in Toronto, Canada? Fear not! This handy guide will help you work out where is the best place to stay in Toronto for you.
The beating heart of eastern Canada, Toronto is a city that punches above its weight (with a population of just 2.7 million people, Toronto is relatively small). But it boasts one of the best arts and culture scenes in Canada along with a diverse culture that will transport you around the world from block to block.
When it comes to the question Toronto – Where to stay – the main thing is to know your neighbourhoods. In this blog dedicated to where to stay in Toronto, Canada, I cover the different areas of the city to stay in, the pros and cons, as well as what to know if you're researching where to stay in Toronto first time. Whether you're looking for a business base, the ultimate luxury Toronto getaway, or are trying to find Toronto accommodation on a budget, I have recommendations for you.
I called this city home for a year pre-covid (if you're thinking about moving here, my guide to the pros and cons of living in Toronto is a must read), and although I decided it wasn't the right home for me, this city has so much to offer visitors, whether you're just passing through or staying for longer.
So, without further ado – let's help you find the best hotel in Toronto for you!
Where to Stay, Toronto – Quick Comparison Chart
For more on which area to pick – scroll down to my handy Toronto accommodation area guide below!
| Hotel Name | Check Rates / Book Now | Budget | Area | Best For |
| --- | --- | --- | --- | --- |
| The Drake Hotel | | $$$$ | West Toronto | Contemporary style and nightlife |
| The Broadview Hotel | | $$$$ | East Toronto | A historic hotel with local character |
| Ace Hotel Toronto | | $$$$ | Downtown | Downtown location, families and stays with pets |
| Fairmont Royal York | | $$$$$ | Downtown | Classic Canadian hospitality, amenities & indoor pool |
| Hotel Ocho | | $$$ | Chinatown | Minamalist design, couples accommodation & nearby markets |
| Dream Catcher Travel House | | $$ | East Toronto | Budget friendly(ier) stays, self-catering |
| Hotel X | | $$$$$ | West Toronto | Waterside location & city views |
| 1 Hotel Toronto | | $$$$$ | Downtown | Sustainability & sleek Scandinavian design |
| Stay Inn Hotel Toronto | | $$ | Etobicoke | Budget option closer to the airport / east Toronto suburbs |
| Beach Retreat | | $$$ | East Toronto | Beach stays by the lake |
| Backpacker's Inn | | $ | East Toronto | Budget stays |
The Best Neighbourhood to Stay in Toronto
When you're looking for where to stay near Toronto, you'll quickly find that many of the hotels in downtown Toronto can get very pricey during peak season. Fortunately, there are many other areas to stay in and around Toronto which may offer best value for money. Here's a look at a few of the popular areas for accommodation in Toronto:
Downtown & Harbourfront – If you're wondering where to stay in Toronto area and you want to be in the middle of it all, in a central location close to transport then it's hard to beat the downtown and harbourfront area. Harbourfront lines the lake edge, right next to the CN Tower, and is where a lot of the chain hotels are located, and many rooms (especially on higher floors) come with views out over the lake. If you're looking for where to stay in Toronto without a car, this is one of the best options, too, as you'll be right next to Union station for the Go Train (suburban network) as was all VIA rail Canada services and the Toronto city metro. The Downtown area extends north from the lakeshore up Yonge Street.
Chinatown – Toronto's bustling Chinatown is located just off the downtown area and is super centrally located. You'll find a mix of budget and tired rooms, with a few slick boutique hotels thrown into the mix. If you want to stay in a city centre location but don't want a chain hotel/condo vibe, a hit with foodies, this area is well worth considering when asking the question "where should I stay in Toronto".
Bloor & Yorkville – Located in the heart of the city, Yorkville is the best area to stay in Toronto for fashionistas and those who love high-end shopping, Yorkville is arguably the most well healed area of Toronto with plenty of luxury boutiques, high end restaurants, the Four Seasons hotel, and patios that are perfect for summer al-fresco eating. Easy to access the rest of the city via Metro.
East Toronto – East Toronto is often overlooked in the search for the best place to stay in Toronto, but there are some real gems over on this side of town. The Distillery District, located just to the east of the Harbourfront area is one of the most instagrammable spots to hang around in town, and comes to life during the run up to Christmas. Further east, Leslieville is a local, homely neighbourhood with a couple of good accommodation options and lots of quality restaurants and bars, while The Beaches have a great vibe if you're up for staying in apartments or Airbnbs rather than hotels, are perfect for experiencing the quieter side of Toronto and those evening boardwalk strolls next to Lake Ontario. The Metro does not come out to this part of Toronto but all 3 areas are easily accessed by the King (504) or Queen (501) Streetcars.
West Toronto – Long considered one of the most trendy parts of the city (Queen West), West Toronto is home to a few neighbourhoods that you may fall in love with. One of the best places to stay in Toronto if you love nightlife, entertainment and plenty of things to do. Queen West and Ossington is home to trendy hotspots and local designers, while Kensington Market is the place to go for vintage clothing, hamburger joints and street food. Little Portugal is a great place to stay in Toronto for independent art galleries and unique bars. Further west still, High Park is Toronto's largest lung, and a delight to wander in at any time of year, but especially in October when the fall colours reach their peak.
Etobicoke & Beyond If you're looking for where to stay in Toronto on a budget, you may find you need to broaden your search to outside of the city centre, and a good place to look for budget-friendly Toronto hotels is Etobicoke (pronounced et-o-bi-ko). This primarily residential area is filled with new high-rise condos, many of which have stunning lake views back towards downtown Toronto (if you're lucky). There's also some interesting First Nations history here at Old Mill and the beautiful lakeside Humber Park is a nice spot for nature. It takes a while to get into the centre of town from here (up to an hour) but is reasonably convenient via either the Queen Car (501) or Bloor-Danforth Metro line. It's also located nearby the airport. Further west you have the sub-city of Mississauga which is home to more good-value options but too far away from Toronto to be included in this guide.
Top Hotels in Toronto, Canada – Reviews
The Drake Hotel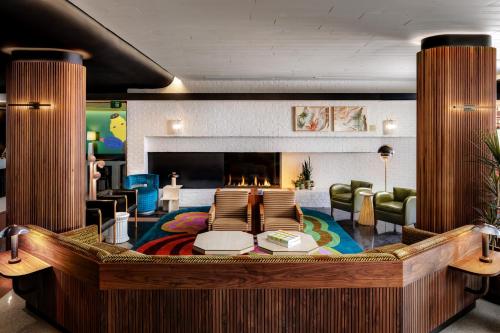 Best for – contemporary style and on-site nightlife
This is one of the best hotels in Toronto, Canada when you prefer to stay somewhere that's a little out of the ordinary. The design of The Drake stands out, as it's full of colour and contemporary style. It's located to the west of the main downtown area, and just north of Liberty Village.
The Drake is a recognised Level One Travel Sustainable property and offers something for every fan of tech, art, nightlife and food. There's also luxury in abundance, with Malin + Goetz toiletries in the bathrooms, Bose speakers in the bedrooms and unique local artworks all over the hotel.
If you're wondering where to stay when visiting Toronto and want to sample the city's vibrant nightlife, the great news is that The Drake has a cool entertainment spot right here on site. Plus a trio of restaurants and a rooftop terrace for cocktails. Check in here and you may never want to leave the premises!
Check rates and availability for The Drake Hotel Here
The Broadview Hotel
Best for – a historic property with local character
If you love to stay somewhere with a local feel, then another contender among Toronto's best places to stay is The Broadview. It's housed in a historic red brick building on the avenue of the same name, to the east of the city centre.
The Broadview offers the best of both worlds for leisure and business travellers. There's a bar, restaurant and business centre on site, plus work desks in each room. Room sizes range from 280 to almost 400 square feet, so there's plenty of space in which to stretch out.
This is a Level 2 Travel Sustainable property where rooms come with creature comforts such as a flatscreen TV, air conditioning and a coffee maker. Despite the corner position, it's a peaceful spot. Past guests praise in particular the helpful staff at the 24-hour front desk and the sympathetic renovation of a character building.
Check rates and availability for The Broadview Hotel here
Ace Hotel Toronto
Best for – a downtown location, families and pets
Whether you're considering where to stay in Toronto with the family or your pet or you're more concerned about being centrally located, Ace Hotel is a great bet. It's close to everything downtown has to offer, so little legs won't need to walk too far when getting around. Ace Hotel is also closer to the coast than many properties in the city.
You don't have to make any sacrifices when it comes to style, either. The vibe is modern and industrial, with just enough quirky touches to keep things interesting. Again there's a restaurant and bar on site, so it also ticks the box of where to stay in downtown Toronto when you want the option of dining and drinking on site.
Among the room types offered here are quads with two double beds, making this a top choice for couples with a child or two in tow. There's a playground just 50 yards away, or head to Hanlan's Point Beach that's around a mile-and-a-half from the hotel.
Check rates & availability for the Ace Hotel here
Fairmont Royal York
Best for – location, amenities and an indoor pool
Wondering where to stay in Toronto downtown? Then the Fairmont Royal York simply has to make it onto your shortlist! It's sandwiched between Old Toronto and the Harbourfront, close to Union Station. Plus every other city centre attraction you can think of.
The Fairmont Royal York is also an eco-conscious property, and has the rare city centre perk of an indoor pool. Granted, this is not where to stay in Toronto for cheap, but you do get a lot of bang for your Canadian buck. There's several places to eat and drink, plus a historic ballroom to see.
The fabulous facilities at this hotel include a spa, two pools, a gym, a concierge and room service. There are cocktail and library bars, plus a bakery among the eateries. To spoil yourself with even more luxury and space, you can also book into a larger suite.
Check rates & availability for the Fairmont Royal York here
Hotel Ocho
Best for – minimalism, markets and couples' accommodation
The building that's home to Hotel Ocho was once a factory. Now, it's a sleek, industrial style hotel with a modern, minimalist look. It's on the western side of the city centre, just south of colourful Kensington Market.
This is the best area to stay in Toronto for couples who want to explore – and Ocho is one of the top properties too. Rooms feature exposed brickwork, and range from 200 square feet in size to double that when you book a Deluxe King. Large windows ensure lots of natural light throughout the day.
There's a bar and restaurant on site, plus several local options within a couple of hundred yards. Many city sights and two subway stations are under a mile away, and the position is perfect for exploring on foot.
Check rates & availability for Hotel Ocho here
DreamCatcher Travel House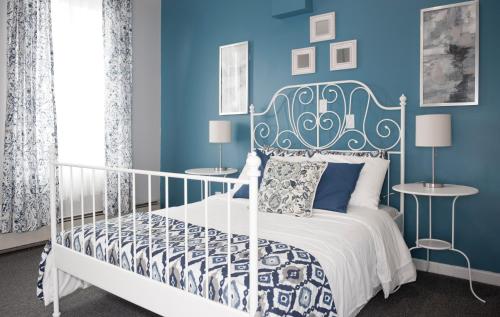 Best for – self-catering and saving money
If you don't mind being a couple of miles from the city centre, Dreamcatcher Travel House may be the best place to stay in Toronto, Canada for you. It's a lovely place with a homely atmosphere, and the rooms are clean and comfortable. The closest subway is Chester station, which is under a mile away.
This is an adults only property with several air conditioned, en suite rooms. Offering 300 square feet of space, these offer a kitchenette with a microwave and stove top so you can do some self-catering. This is another good way to save money, and the affordable room rates here will also leave you with more money to spend on other things.
A couple of miles away are all the city centre attractions, and Sugar Beach is also under two miles from Dreamcatcher Travel House. If you're seeking Toronto places to stay on a budget, then you'll be hard-pressed to beat this. It's where to stay near Toronto with easy access to everything.
Check rates & availability for Dream Catcher Travel House here
Hotel X by Library Collection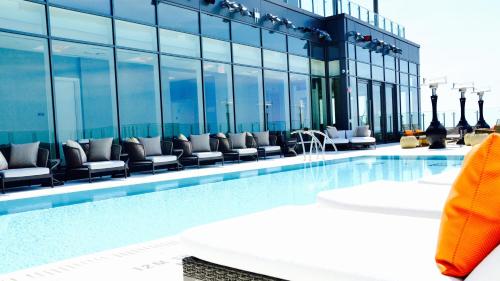 Best for – luxury, a waterside location and city views
If you like to book a room with a view, then you'll adore the vistas from Hotel X. Right there on the waterfront, this is without a doubt the best area to stay in Toronto for first time visitors. This glittering, contemporary property offers everything you might need on the premises, and is only around a ten minute walk from Hanlan's Point Beach.
When you love to be by the water and are wondering what area to stay in Toronto, this could be it. In fact Hotel X is one of the best places to stay in Toronto, Canada on so many levels. There's a deluxe Guerlain Spa with lake views, Prime Grill serving three meals a day, a gym, an outdoor pool and even a photography gallery.
Guests at Hotel X are well looked after, and their pampered pets are welcome here too. Thoughtful touches like a shoe shine service, mini fridges with complimentary bottled water and a late checkout go a long way towards making your stay a memorable one.
Check rates & availability for Hotel X here
1 Hotel Toronto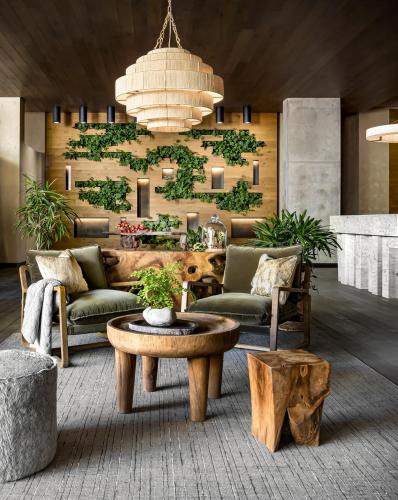 Best for – a sleek, Scandi-style stay downtown
An outdoor pool, spaces flooded with natural light and a location between the city centre and Liberty Village await guests at 1 Hotel Toronto. It's one of the finest places to stay in downtown Toronto, though the prices do reflect that. Sister to the 1 Hotel Brooklyn Bridge in NYC, the 1 hotel is a trend-setter when it comes to innovative and sustainable design.
This hotel offers some of the most spacious rooms in the entire city. Even the smallest are around 375 square feet, and are fully soundproofed to ensure a good night's sleep. Each has a boutique feel, with blonde hardwood flooring, full length windows and Scandi-style decor.
If you want to find cool Toronto hotels with all the facilities you could wish for, then 1 Hotel must be a contender. It even offers private parking, so is ideal for those exploring Canada by car. Other amenities include a bar and restaurant with terrace, a gym, an outdoor pool, a spa, a concierge and a 24-hour reception.
Check rates & availability for the 1 Hotel here
Stay Inn Hotel Toronto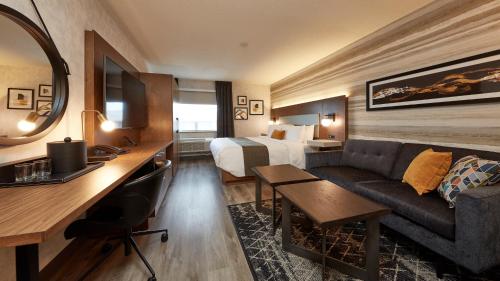 Best for – drivers, the airport and budget rates
The Etobicoke area is one of the best places to stay near Toronto on a budget. It's a great bet in terms of public transport connections, with the airport only six miles away and a travel time to the city centre of around an hour.
The Stay Inn Hotel is far more stylish inside than the somewhat bland exterior suggests. There are family rooms for up to four guests, and all accommodation includes free WiFi, 42 inch flatscreen TVs with cable, a work desk and even a fridge to keep snacks and drinks chilled.
It's a good option for drivers, too, as free parking is available here. If you do have a hire car, you can reach downtown Toronto in around 20 minutes or so. Marie Curtis Park Beach is also under two miles from this hotel.
Check rates & availability for the Stay Inn Hotel here
Beach Retreat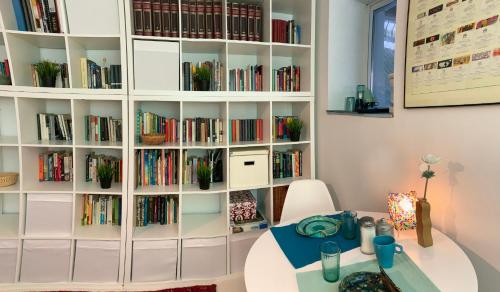 Best for – beach days and outdoor living
If you're headed to Toronto with beach days in mind, then maybe you need to book into the Beach Retreat! Though not as central as other places, this is one of the really nice areas in Toronto for outdoor types. In addition to being by the coast, you also get lots of green space here.
This compact apartment is ideal for two guests. It offers lovely lake views, free WiFi, a kitchenette, a flatscreen TV and a garden with a barbecue. Unlike many centrally located hotels, this beautiful vacation rental offers on-site parking too.
If you want to take advantage of added outdoor space in a safe, quiet location, then book Beach Retreat for your dates before someone else does. Past guests love the fact that this place is just as described, and it offers great value for money. A couple beaches are right on the doorstep too, just a few hundred yards away.
Check rates & availability for your beach retreat here
The Only Backpacker's Inn
Best for – clean, comfortable backpacker accommodation
If you're searching for a bed in a dorm or a private room on a backpacker budget, then the Only Backpackers Inn is the place to head for in Toronto. You can book a dorm bed or a double or single room here, all with access to shared bathrooms.
Breakfast is included with the room rates here, and you get a good spread each morning. Expect eggs, muffins, fruit and scones as well as cereal, toast, tea and coffee. Later in the day, you can even sample some local craft beers at the bar.
For socialising with fellow guests and cooking up a storm, there's also a communal lounge, a garden and a shared kitchen. When it comes to exploring further afield, the Greektown neighbourhood is close at hand, or Donlands subway station is just 50 yards from the hostel.
Check rates & availability for the Backpacker's Inn Toronto here
Get the most out of your visit to Toronto
Are you looking for more Toronto travel tips and advice? You can read my guide to the best things to do in Toronto here.
In addition, here some of my favourite activities you won't want to miss during your time in Toronto: