Wondering where to stay in Victoria, BC, for your visit? In this guide to the best Victoria BC hotels and accommodation I share my top picks and the lowdown on which areas to stay – whether you're a first time or regular visitor.
This post may contain compensated affiliate links. Read my full disclosure here.
Accommodation Guide & Best Hotels in Victoria, BC
As the capital of British Columbia and the largest city on beautiful Vancouver Island, Victoria makes for the perfect place to visit – whether you're looking to immerse yourself in culture, history, nature, or just escape the bitter winter for some milder weather (Victoria's winters are the mildest in Canada).
After living here for a year, I've got to know a bit about the different neighbourhoods in the Greater Victoria area and which ones make the best options for visitors to Victoria – depending on your different needs.
In this guide to the best hotels in Victoria, Canada, I share some of my favourite places to stay and the pros and cons of different areas of Victoria. So whether you're looking for the best luxury hotels Victoria has for a weekend getaway or cheap hotels in Victoria, BC, I've got you covered.
There are also plenty of accommodation options to consider beyond the regular Victoria hotels downtown – you can opt to spend a few days in an oceanside resort, or a cute heritage bed and breakfast in residential James Bay.
So without further ado, here are my recommendations for where to stay in Victoria Canada.
Tips for Finding the Best Victoria BC Hotels
If you're planning to visit Victoria in summer, or during weekends between April-October, book well ahead. Victoria gets booked up fast, especially during the summer months, and the earlier out you book the more choice you'll have.
Victoria, Canada hotels can also be expensive and hotel rates high – again especially at weekends and during the summer – another reason to book well ahead. Finding good budget friendly hotel options in Victoria can be a challenge, but I've included a few options below in this guide.
I haven't included Airbnb recommendations here for a couple of reasons. Firstly, they tend to be pricey, and secondly because of the disastrous impact short term rentals have on the local rental market. I personally experienced the challenge of trying to find reasonably priced long term rental accommodation when I moved to Victoria, only to find that most landlords refuse to rent out places to locals during summer as they're all on Airbnb for tourists at triple the price… Plus these days, hotels could really use the business support.
Best Hotels in Victoria Comparison Chart
Hotel Name
Check
Availability
Budget
Area
Best For
Fairmont Empress
CHECK RATES / BOOK NOW
$$$$$
Downtown
Iconic luxury hotel – top luxury hotel in Victoria
Marriott Delta Ocean Point Hotel
CHECK RATES / BOOK NOW
$$$$
Esquimalt
Located across the bridge from downtown, great views of Victoria
Ocean Island Inn
CHECK RATES / BOOK NOW
$
Downtown
No-frills option for those on a budget
Rialto Hotel
CHECK RATES / BOOK NOW
$$$$
Downtown
High end Boutique hotel in downtown, great for couples
Beaconsfield B&B
CHECK RATES / BOOK NOW
$$$$
Fairfield
Charming Bed & Breakfast near Beacons Hill park & a short walk from downtown
Floathome B&B
CHECK RATES / BOOK NOW
$$$
James Bay
Quirky houseboat on Fisherman's walk – unique stay on the Inner Harbour
Oswego Hotel
CHECK RATES / BOOK NOW
$$$$
James Bay
Stylish boutique hotel with ocean views in James Bay
Oak Bay Beach Hotel
CHECK RATES / BOOK NOW
$$$$
Oak Bay
Beautiful ocean-front resort in the suburbs of Oak Bay (east Victoria)
Helm's Inn
CHECK RATES / BOOK NOW
$$
Downtown
Studios & Apartments with kitchenettes / self catering
Victoria BC – Where to Stay – Neighbourhood Guide
There is plenty of choice between different neighbourhoods to stay in in Victoria, each offering something a bit different.
Victoria downtown is compact and walkable, or you can make use of the city's transit bus network which is reliable and efficient, however if you aren't planning on bringing / renting a vehicle, you may find it preferable to stay in the downtown, inner harbour or James Bay areas so you can get around easily. Fairfield is about 20-25 minutes walk from the town centre.
Some of the main areas to stay in Victoria that I recommend are:
Downtown Victoria – Perfect for when you want to be close to all the action and facilities, you'll have plenty of restaurants and bars on your doorstep and it's a short stroll to the inner harbour where the whale watching and boat tours depart from. The historic Inner Harbour itself is located at the southerly end of government street. Downtown has plenty of different hotels to choose from, many of them chain hotels or high-end options, and is a great option for families and first time visitors to Victoria. Downtown is home to the vast majority of Victoria BC hotel options.
James Bay – The heart of historic Victoria filled with grand homes and wide stately residential streets, James Bay is the grandest neighbourhood in Victoria. Located just south of the inner harbour and to the south west of downtown, from here it's a short walk to the downtown area, while benefiting from a quieter, more residential part of town to stay in. James Bay is filled with beautiful heritage bed & breakfasts, and some of the best boutique hotels Victoria BC has are here too. Horse and carriage rides run from the inner harbour around James Bay which can be fun for kids, and here you're just a short stroll to the BC Museum and Beacon Hill Park, too.
Fairfield – One of my favourite neighbourhoods in Victoria (although I am biased as I used to live here ;-)) is Fairfield and the area surrounding Cook Street Village. Not a typical 'tourist' neighbourhood, Fairfield is great for repeat visitors to Victoria, or if you want to stay somewhere a little quieter away from all the cruise day-trippers. There are a selection of bed & breakfasts here and it's around a 20 minute walk into town along tree lined streets. Or you can easily walk to Beacon Hill Park or the beautiful Gonzalez beach.
Oak Bay – Located on the eastern side of Victoria, Oak Bay is a little away from the city itself, but still close enough to be easily able to drive (or bus) in whenever you want. One of the main advantages of staying here is its beachside location – this is your chance to stay on the ocean shore as well as within easy access to all of the Victoria attractions. A great option for families and anyone who wants to be by the water, this is one of the alternative places to stay in Victoria that shouldn't be overlooked.
Best Hotels in Victoria BC Reviews
Now that you know which areas offer the best places to stay in Victoria BC, I'll run through my top hotels in Victoria so that you can choose where's going to be best for your upcoming trip.
Fairmont Empress Hotel – Downtown/Inner Harbour
Best For – The Quintessential Luxury Victoria hotel experience
The 'Grande Dame' of Victoria's hotels and certainly her most iconic, if you're looking for luxury hotels in Victoria you won't want to miss the Fairmont Empress.
Owned by Canadian chain Fairmont hotels (although recently acquired by the Accor group), the Empress hotel is a slice of Victoria's history – in fact this is the famous hotel in Victoria, BC. This Edwardian era Chateau is set right on the edge of the inner harbour with views out across Victoria's waterfront. It's a few steps away from the BC museum, entertainment and restaurants of Victoria's downtown, or you can rent a kayak and explore Victoria's harbour from pretty much your doorstep.
The hotel is ranked among one of the 21 most iconic hotels in the world, so a stay here is the quintessential Victoria experience. If you stay here (or even if you're staying elsewhere) don't miss a chance to have English style afternoon tea at the Empress (advance bookings essential) to get you into the Victoria mood.
Rooms have recently been renovated, and if budget allows the harbour facing ones offer the best views.
Check availability at the Fairmont Empress & book on Booking.com here.
Delta Hotels by Marriott Victoria Ocean Pointe Resort – Esquimalt/Inner Harbour
Best For – Lovely Waterside Resort Overlooking Downtown Victoria
Located just across the bridge from downtown Victoria in an area known as Esquimalt, one of the best things about this Victoria hotel are its views across the water onto the inner harbour area and Victoria itself.
The hotel gardens lead directly down to the water and the outdoor dining restaurant, LURE, has full harbour views. This is a resort style property, with amenities that include a pool, tennis courts and a fitness area, and its well suited to families who want both plenty of hotel facilities and proximity to the city centre. In just a short walk over the bridge into Victoria, you can be in the heart of downtown.
One of the top waterfront hotels in Victoria, BC, the Delta by Marriott is a good option if you want to be in a quieter location with great waterfront views but still close to the town centre.
Check availability at the Delta by Marriott & book on Booking.com here.
Ocean Island Inn – Downtown
Best For – Victoria on a Budget / Backpackers
When it comes to cheap hotels Victoria, BC options, one of the better ones is the Ocean Island Inn located on the northern end of downtown. Praised for its friendly staff, the Ocean Island Inn is something of an establishment and is a great place to stay to meet fellow travellers if you're backpacking.
There is a good choice of different room types and accommodation available, from budget-friendly dorms with shared bathrooms, family rooms and private rooms with either private or shared bathroom facilities. Do note that the 'economy dormitories' are on the ground floor and can get a lot of street noise, so if you're a light sleeper, it's better to upgrade to another dorm or room option. Guests have access to a shared kitchen as well as a launderette.
This hostel is not in the best part of town, but it does get great reviews for its community feel and helpful, friendly staff who can help with advice on the local area as well as getting the most out of your stay in Victoria. For a simple, budget-friendly place to stay, this is one of the top hotels in Victoria.
Check availability at the Ocean Island Inn on Booking.com here.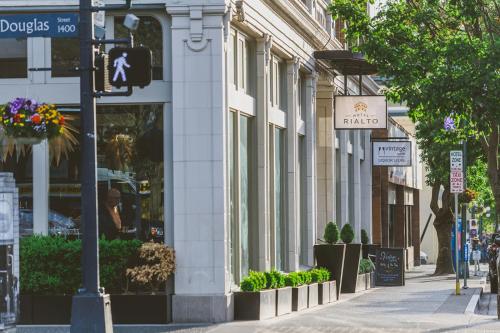 Hotel Rialto – Downtown
Best For – Boutique Luxury
This Victoria Canada hotel is something of a hidden gem, set away from the main tourist drag of lower Victoria, but just a few blocks back from the Inner Harbour. Its location is handy for exploring all of Victoria's best eateries and bars, and you're just a few steps from Victoria's Chinatown (the oldest in Canada).
Rooms are stylish and modern with crisp cottons and super comfy beds, and the hotel is designed to give a hint of Italian style and flare – rooms come with Aqua di Palma toiletries, and the restaurant serves tasty Italian cuisine. Even if you don't stay here the cocktail bar is well worth a visit, too.
The Rialto Hotel is family owned and full of the kinds of thoughtful details that make for a great stay. If you're looking for hotels in downtown Victoria BC that are comfortable, friendly and close to all the main attractions then you'll definitely want to check out the Rialto.
Check availability at the Rialto Hotel on Booking.com here.
Beaconsfield Bed & Breakfast – Fairfield
Best For – B&B with lots of charm in a quiet neighbourhood
Victoria is home to some of the best bed & breakfasts in Canada, so if you're looking for somewhere to stay in Victoria which has lots of character and charm, why not give a B&B a try?
The quiet tree-lined neighbourhood of Fairfield is about a 20 minute walk from downtown Victoria, so it's a great place to stay if you want to be somewhere a little quieter, while still being within easy reach of the town's main attractions. Beaconsfield Bed & Breakfast is a charming historic house (built in 1905) and offers high-end accommodations at good rates with a delicious breakfast included in the room rate.
There are a range of different rooms to choose from, many with feature fireplaces, antique pieces, stained glass and spa bathtubs. If you're after comfortable accommodations with friendly service and lots of heritage charm, this is a great B&B to stay at.
Check availability at the Beaconsfield B&B on Booking.com here.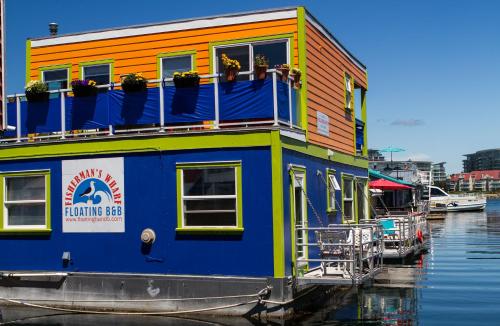 Floathome B&B – James Bay / Inner Harbour
Best For – A unique stay at a floating B&B on the inner harbour
If you're looking for hotels Victoria harbour options, then there's nothing quite like this mini bed and breakfast for an experience on the water. Located in Fisherman's Wharf floating village in James Bay, a short stroll from the inner harbour, this floating bed & breakfast is a houseboat with mid-range accommodation, all with sea views and private patios facing onto the water. Don't be surprised if a seal pops up to greet you while you're having your morning coffee!
Breakfast is available at the Imagine Bistro on Fisherman's Wharf which offers a tasty range of organic and gluten free options, and is invested in providing skills training for those from disadvantaged communities locally.
The location here is hard to beat, with downtown Victoria, the inner harbour, boat trips and the neighbourhood of James Bay all easily accessible by foot.
Check availability at the Floathome B&B on Booking.com here.
Oswego Hotel – James Bay
Best For – A stylish, Boutique hotel stay in James Bay
A quieter and more characterful alternative to many of the chain hotels in Victoria BC downtown is the Oswego – a boutique hotel located in the residential James Bay area and just 2 blocks away from the inner harbour and parliament buildings.
This is an all suite property with rooms including kitchen facilities, high-end contemporary design, floor to ceiling windows, and some feature balconies with views out over Victoria. There's an on-site bistro with an outdoor courtyard, or you can opt for self-catering when you stay here.
This boutique hotel gets rave reviews for the friendly service, facilities, and quiet location which provides just enough peace and quiet while being close to everything.
Check availability at the Oswego Hotel on Booking.com here.
Oak Bay Beach Hotel – Oak Bay
Best For – Those looking for an ocean-side beach resort within easy reach of downtown Victoria
One of the best luxury hotels in Victoria BC for a romantic getaway (or if you're looking for Spa hotels Victoria, BC), the Oak Bay Beach Hotel is a beautiful oceanfront resort in the Oak Bay area of greater Victoria.
Around a 15 minute drive to Downtown Victoria, the best thing about the Oak Bay Beach Hotel is the stunning views out over the ocean towards the Gulf Islands (if an ocean view room is within your budget, you won't regret it!). The hotel features outdoor hot tubs, spa pools and a swimming pool over looking the ocean, so if you're looking for a spa getaway near Victoria or want to unwind, look no further. There are a number of different bars and restaurants on site, with a favourite being the 'snug pub' which also features ocean views.
Choose from hotel rooms or suites with self-catering facilities. All rooms include fluffy bathrobes, blackout curtains, modern, luxury decor and amazing bathrooms. What more could you want?
Check availability at the Oak Bay Beach Hotel on Booking.com here.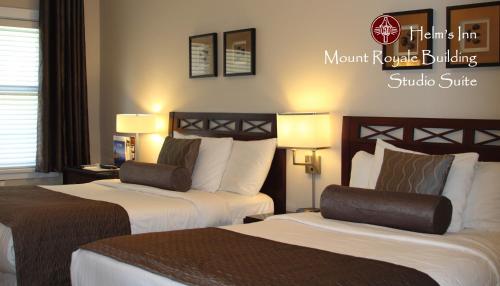 Helm's Inn – Downtown
Best For – Great value mid-range rooms in a good location
Last in my best hotels Victoria, BC reviews is Helm's Inn, a reliable mid-range all suite hotel that offers good value for money. Located at the southern tip of downtown, the hotel is just steps from the inner harbour, James Bay, and Beacon Hill Park.
All rooms include basic kitchenette facilities with fridge, coffee maker and microwave. There's complimentary wifi as well as a laundry for guest use on site. Larger king suites can accommodate up to 2 adults and 2 children.
Staying here, you'll be a in a central location that's close to all of Victoria's main attractions, pubs, restaurants and cafes within walking distance.
Check availability at Helm's Inn on Booking.com here.
Read more about Travel on Vancouver Island on Soul Travel:
My Vancouver Island Bucket List
Best Places to Visit on Vancouver Island
Pin this Post on Pinterest for Later!